Sadhana candle
Regular price

Sale price

€44,00
CATHERINE SAURAT-PAVARD x AIMÉE DE MARS

Sadhana, meditation candle

This aromabougie® is the fruit of a meeting of Souls. I co-created it with a muse with a heart of gold: Catherine Saurat-Pavard, a Kundalini yoga teacher who guides us every morning during the SADHANA.

May the flame of this candle dance in unison with your heart and carry you towards the expression of your singularity and your freedom to Be.

This candle is specially formulated to connect you to the invisible, with a bouquet of essential oils of sage, palo santo, papyrus and incense.

Let yourself be carried away by its soft, sweet fragrance.


Content : 150g - Usage time : 40h
Olfactory Notes

Sage, palo santo, papyrus, incense.
Assets & benefits

- Sage protects, purifies the energy of the room.

- Frankincense reduces stress, promotes inner peace.

- The palo santo eliminates negative energies, strengthens confidence, promotes our relaxation.

- Papyrus soothes the nervous system, clarifies the mind.

98.8% of natural origin.
European soy wax and coconut wax guaranteed GMO free.
100% cotton wick.

Non-refundable and non-exchangeable candle.
Ritual

This candle is specially formulated to connect you to the invisible and enter into meditation in a modified state of consciousness.
To share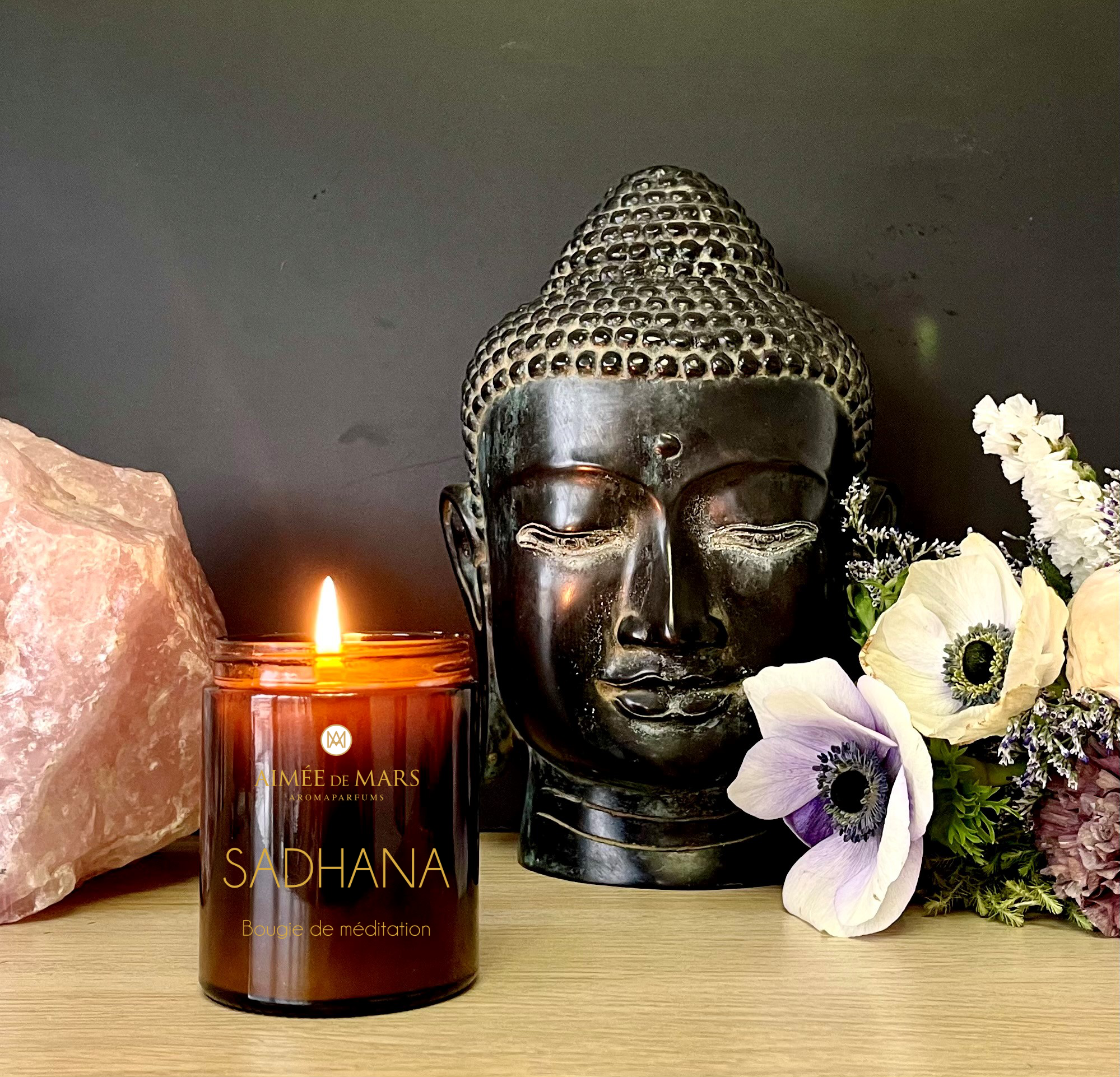 Our products are
FRENCH & FAIR

The power of the elements from Heaven and Earth.

NATURAL AND VEGAN

Labeled Cosmos Natural and Slow Cosmetics

HOLISTIC

An action-care for body and mind.
10/10 d'après vos 34 avis
bougie exquise qui vous emporte et vous fait oublier le tumulte de nos vies

Magique, mystique et odeur sensuelle

????un vrai bonheur olfactif.??

livraison rapide et soignée, je suis totalement addict à cette bougie Sadhana ? !!

C'est la troisième fois que je commande cette bougie qui m'accompagne lors de mes méditations

Bougie au parfum subtile, propice au centrage

j'adore l'odeur et le rituel proposé avec.

très belle bougie et parfum délicat

Une bougie toute en douceur, un moment pour soi.

Je l'allume lors de chaque cours avec Catherine, en harmonie ....

Ne sent pas très fort mais c'est normal quand une bougie est naturelle.

Odeur exquise, une vraie belle surprise

Tout ce qui me fait voyager, les yeux fermés...

Très agréable, douce et légèrement parfumée. Juste ce qu'il faut pour créer l'ambiance dans la maison.

Très belle senteur apaisante

Très bien ! la méche permet une belle flamme et l'arôme est délicat.

Le parfum est sublime...et réconfortant, apaisant. J'aime également le pot en verre et ses lettres dorées. Dommage de ne pas avoir glissée la méditation dans la boîte. Merci à toi Valérie et Catherine pour cette belle découverte.

C'est pour un cadeau mais je suis certaine qu'il sera apprécié.

Bougie très très agréable, une grande joie pour méditer

Elle m'accompagne dans mes rituels. J'adore l'odeur

Senteur fabuleuse, merci ?

Senteur divine et pot de présentation charmant ??

J'adore le parfum. Merci beaucoup ??????

Produit conforme en tout point et odeur très subtile mais qui reste présente. La bougie ne se consume pas trop vite et le packaging est très délicat et qualitatif. Dommage que Catherine Saurat Pavard n'apparaisse pas dans cette collaboration sur le packaging...

senteur très agréable et inspirante