Soleil Bergamote air freshener spray
Regular price

Sale price

€42,00
Bring the sun into your home with the SOLEIL BERGAMOTE home fragrance with notes of lemon, bergamot and incense that brings vitality and joie de vivre.
Heritage of the Corinthian tradition, transform your house into a garden of the Hesperides: the garden of immortality within which a fabulous tree gave golden apples (lemons, mandarins, bergamots).
100% from natural origin.
Capacity: 100 ml
Olfactory Notes
Assets & benefits

- Bergamot has fresh, citrusy and lavender notes. It is the essential oil of the joy of living par excellence. It stimulates the solar chakra, promoting confidence and self-esteem.

-Frankincense, also called Oliban, is obtained from the bark of a shrub called Boswelli carterii. Used in amber and oriental perfumes, incense brings warmth, comfort, softness and above all it connects us to our divine spark.

-Lemon is the essential citrus fruit of gastronomy and perfumery, lemon is part of the Hesperidae family, in reference to the garden of the same name in Greek mythology. Associated with the Solar Chakra, it makes us more optimistic.

"Each day, give thanks for the gifts and fruits given to us in our daily ritual of gratitude."

Valerie Demars

Ingredients: Eau de Saint-Genulphe, organic wheat alcohol, atmosphere-enhancing concentrate with essential oils

Contains :

Linalool (compound of bergamot), linalyl acetate (compound of bergamot), isoeugenol (compound of ylang-ylang)
Tips

Immerse the sticks in the bottle then let the perfume diffuse into your interior. Suitable for large spaces (living room, bedroom, etc.), rattan sticks absorb and diffuse in your home.

Tip : for a more intense scented atmosphere, turn the sticks from time to time.

Duration of use : 2 months.
To share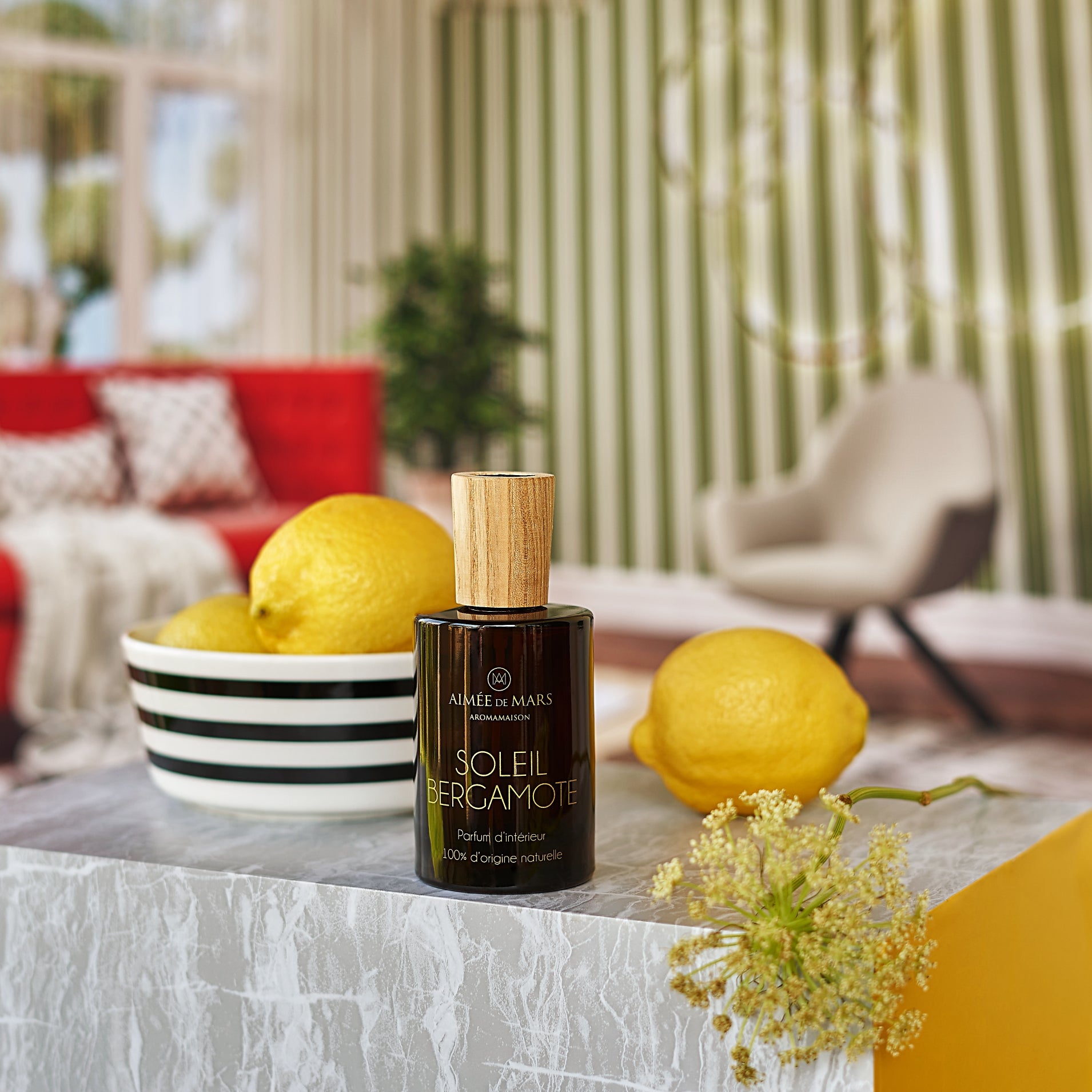 Our products are
FRENCH & FAIR

La puissance des éléments issus du Ciel et de la Terre.

NATURAL AND VEGAN

labeled Cosmos Natural and Slow Cosmetics

HOLISTIC

Une action-soin pour lecorps et l'esprit.
10/10 d'après vos 2 avis
Parfum très agréable. Très satistafaite de mon achat.