Sensuel Rubis fragrance
Regular price

Sale price

€61,00
Sensuel Rubis is a fragrance with character, for women who embrace their feminine power. Its passionate red fruit accord stirs up gluttony, while patchouli and cedar warm its gardenia heart.
100% from natural origin. Certified Cosmos Nat.
Content : 30 ml
Olfactory notes

Top notes: Bergamot, Sichuan Pepper, Raspberry

Heart Notes: Gardenia, Violet, Incense

Base Notes: Patchouli, Benzoin, Vanilla, Leather
Assets & benefits

- Frankincense also called Frankincense is obtained from the bark of a shrub called Boswelli carterii. Used in amber and oriental perfumes, incense brings warmth, comfort, softness and above all it connects us to our divine spark.

- Benzoin is appreciated for its sweet vanilla and balsamic smell, with accents of caramel. It is linked to the second chakra and promotes contact with emotions and trust in others.
- The Cistus is a shrub about 2m high, giving pretty flowers that can be pink, red or white depending on the variety. In perfumery, cistus labdanum is mainly used in oriental, amber and spicy notes, but also in leather accords.

Ingredients: Alcohol, Aqua/Water/Eau*, Parfum, Eugenol, Citronellol, Geraniol, Limonene, Linalool, Benzyl Benzoate, Citral, Benzyl Alcohol, Isoeugenol, Benzyl Salicylate, Love

*Spring water from Saint-Genulphe.
Tips

Sensual Ruby corresponds to the 1st chakra, Muladhara or root chakra. This energy center of red color and located at the base of the spinal column, captures the energies of the Earth to redistribute them in the body. Important energy center, it is our base. When you perfume yourself with sensual ruby, focus your attention at the root of your spine, visualize the link to the center of the Earth. This helps you stay grounded and feel secure.
To share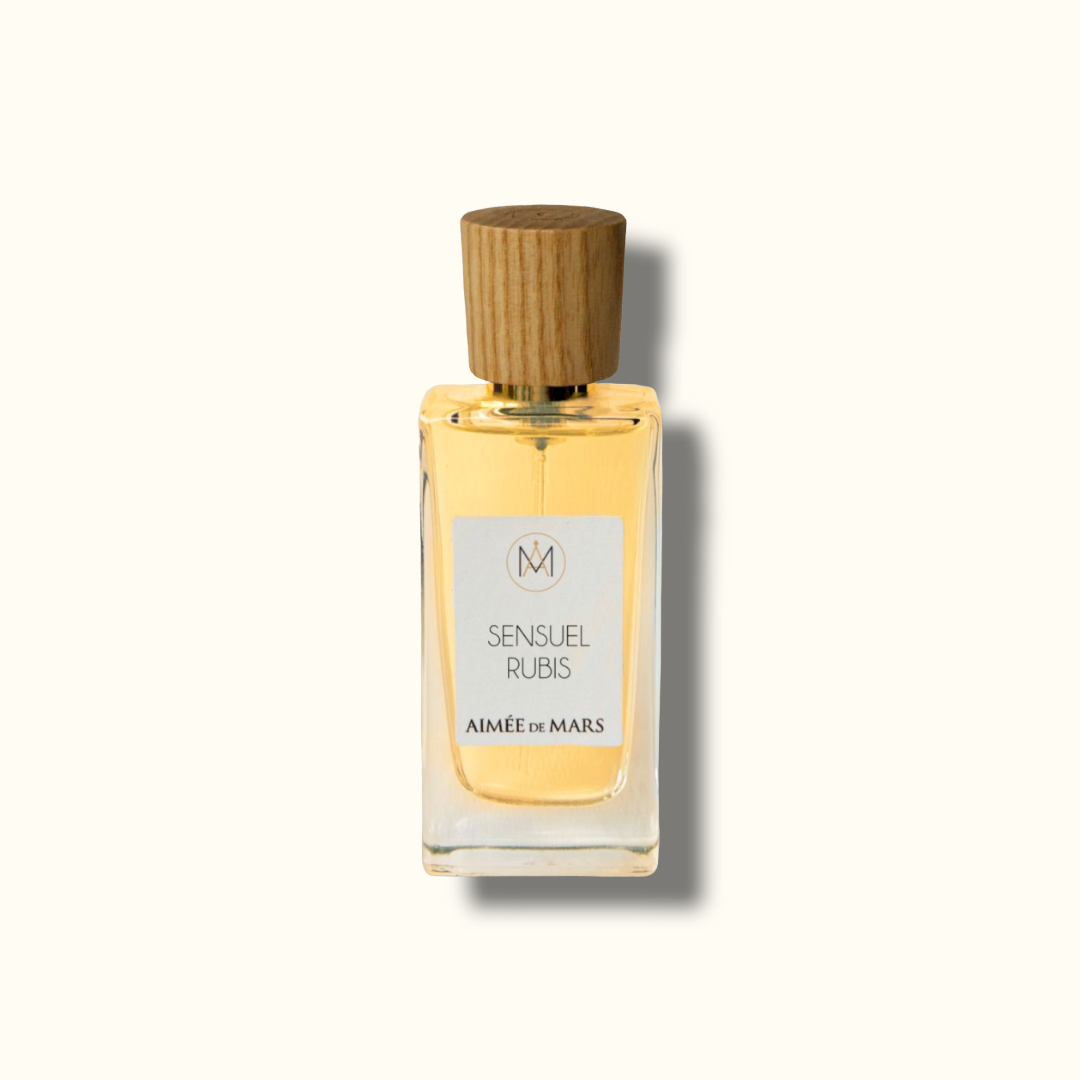 Our products are
FRENCH & FAIR

La puissance des éléments issus du Ciel et de la Terre.

NATURAL & VEGAN

labeled Cosmos Natural and Slow Cosmetics

HOLISTIC

Une action-soin pour le corps et l'esprit.
10/10 d'après vos 18 avis
mon préféré avec mystique améthyste

Je l'adore, c'est mon préféré. Il est profondément, intimement, délicieusement féminin et sensuel… Envoûtement des sens. C'est un pur joyau qui révèle la beauté au cœur du féminin .

Je n'ai pas du tout aimé alors j'ai renvoyé

Produit échangé contre Mythique Iris

Une gourmandise olfactive.

surprenant comme parfum, pas facile à porter pour moi...

L'odeur de tête de violette n'est peut-être pas ma fragrance préférée mais je suis contente d'avoir acheté un parfum sain.

Ca me va parfaitement bien

Odeur agréable, manque un peu de tenue toute la journée.

Je l'utilise depuis un moment et c'est un très bel oriental . Je regrette par contre l:arrêt de Folle Émeraude que j'adorais pour son côté oriental et poudré ...c'était même mon premier choix

Produit juste bon pour la poubelle, n à rien de slow cosmetique Score par inci beauty très mauvaise cote Donne des céphalées

Parfum très agréable et le format est vraiment pratique

Rubis Sensuel est un parfum très féminin, qui tient très bien toute la journée. Il est présent sans être entêtant.