Sensuel set
Regular price

€48,33

Sale price

€38,75
Ideal for a time of letting go for yourself, alone or together...
Can also be used during meditation.
The box contains :
Huile soyeuse Désirable

Sadhana meditation candle

A cotton pouch
Finally, a sweet gift for your loved ones.
Products

Desirable oil:

This oil allows you to work on your anchoring in depth.

It is at the same time regenerating, softening and nourishing thanks to its three organic vegetable oils (perilla, sunflower and jojoba).

Essences of ginger, cedar and patchouli will promote rooting. As for the amber accord of this oil with vanilla and cistus, it will not leave the person performing the massage indifferent...

Sadhana Candle:

This candle is specially formulated to connect you to the invisible, with a bouquet of sage, palo santo, papyrus and frankincense essential oils.

Let yourself be carried away by its sweet and suave fragrance.
May the flame of this candle dance in unison with your heart and bring you to the expression of your uniqueness and your freedom of Being.
Assets & benefits

- Benzoin is appreciated for its sweet vanilla and balsamic smell, with accents of caramel. It is linked to the second chakra and promotes contact with emotions and trust in others.

- Vanilla East soft, reassuring and relaxing. A spice from the Orchidaceae family, it is
mainly produced in Madagascar.

- Myrrh is used to purify dwellings. With vanilla and woody notes, it comes from dry and hot savannahs that offer ideal climatic conditions for the cultivation of this tree.
Ritual

The meditation candle allows intense relaxation during the massage with the oil.

Apply the oil in circular massages on the back, specifically at the level of the sacrum, then on the lower abdomen.

Take a deep breath and then inhale fully into the center of your 1st chakra or root chakra, while visualizing your roots sinking down to the center of the earth.
To share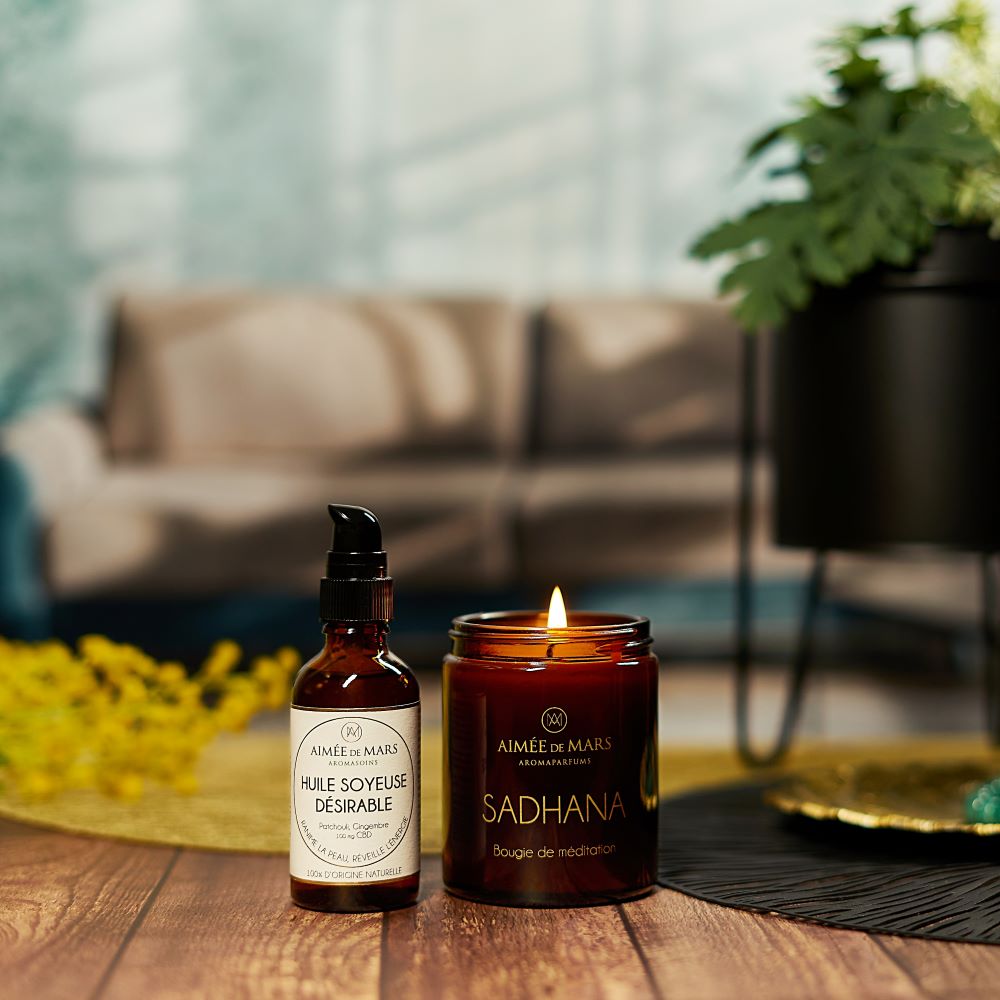 Our products are
FRENCH & FAIR

The power of the elements from Heaven and Earth.

NATURAL AND VEGAN

Labeled Cosmos Natural and Slow Cosmetics

HOLISTIC

An action-care for body and mind.
10/10 d'après vos 3 avis
Huile très agréable au toucher et à l'odorat; bougie subtilement dosée en arômes.

L'huile soyeuse désirable sent très bon et idéale pour un massage apaisant. Avec la bougie, ambiance zen et sensuelle assurée !!

La bougie SADHANA est vraiment superbe, son parfum me permet de me connecter plus facilement à un espace de paix , de calme.