Invocation candle
Regular price

Sale price

€44,00
CATHERINE SAURAT-PAVARD x AIMÉE DE MARS

Invoke your guardian angel.

Invocation is designed to invoke your guardian angel and offer him a bouquet of pretty white flowers: a freesia accord.

It also contains Vanilla, Jasmine and Myrrh, essences that bring comfort and uplift the spirit.
Light the Invocation candle, which also contains Clove for a stimulating and invigorating effect.

100% natural origin.



Capacity : 150g - Shelf life : 40h
Olfactory Notes
Assets & benefits

- Sweet and reassuring vanilla is a spice from the Orchidaceae family. She is
today mainly produced in Madagascar.

- Myrrh , with vanilla and woody notes, is native to Somalia, Ethiopia and South Africa. The dry and hot savannahs offer the ideal climatic conditions for the cultivation of this tree.

- Jasmine is the symbol of femininity and sensuality. According to legend, Cleopatra would have impregnated the sails of her boat with essence of jasmine to seduce Caesar. Jasmine is active on the heart chakra and promotes openness to others.


100% from natural origin.
European soy wax and coconut wax guaranteed GMO free.
100% cotton wick.

Candle not exchangeable or refundable.
Ritual

The Summon

- Place the candle in front of you, pronounce aloud with determination the name of your guardian angel when lighting the wick.

- Close your eyes, take three long, deep breaths to welcome his presence.

- Formulate internally or aloud your prayer and need for accompaniment.

- Let the candle diffuse its fragrance and its benefits for 5 to 10 minutes a day.

- Thank your guardian angel before extinguishing your candle.

- The angels are always by our side and ready to help us if we call on them.

NB: You will find the name of your guardian angel with the help of the book " Communicating with your guardian angel " by HAZIEL.
To share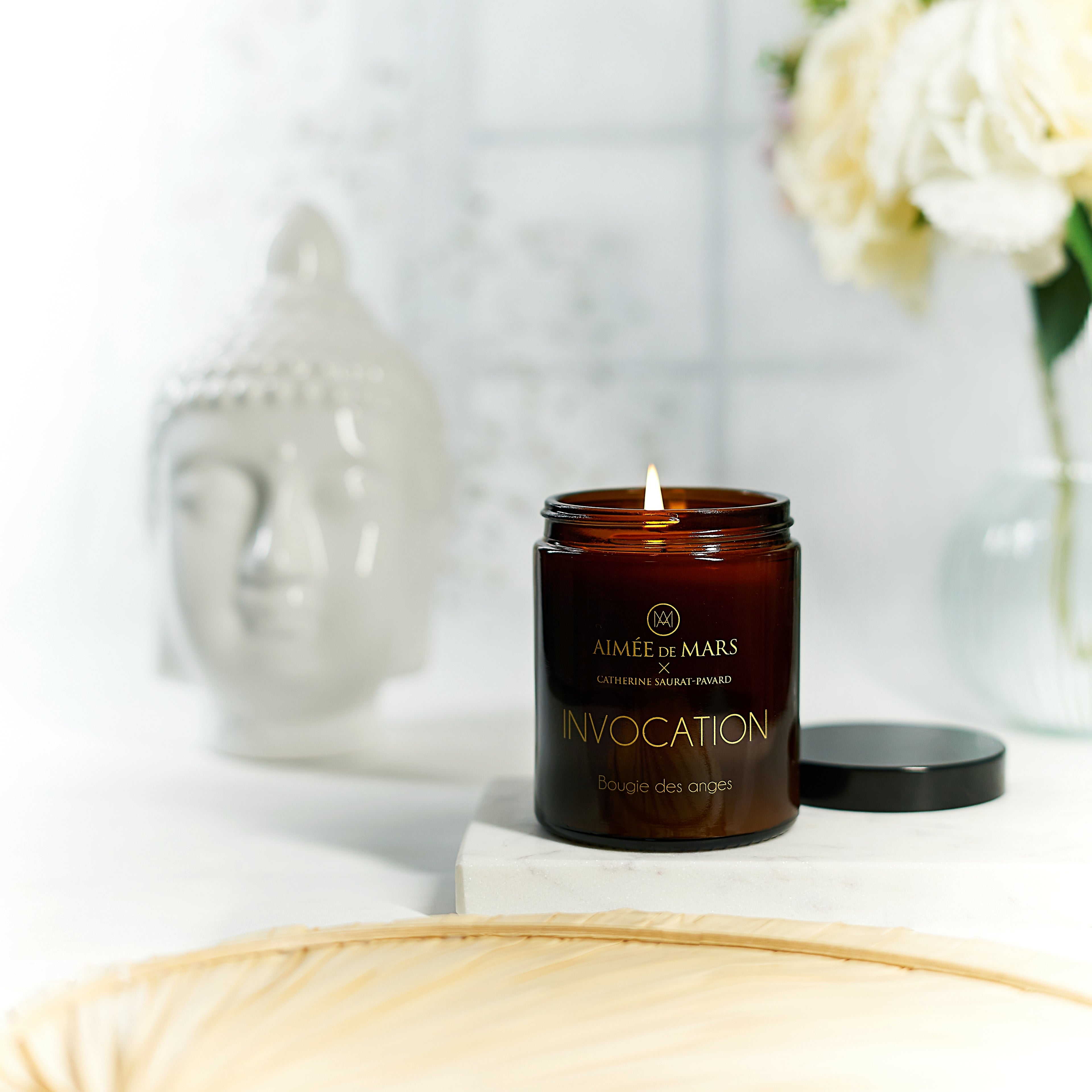 Our products are
NATURAL AND VEGAN

labeled Cosmos Natural and Slow Cosmetics
10/10 d'après vos 7 avis
Idéal pour ce centrer et être en relation avec les étoiles

superbe produit!!! j'adore

Ce doux parfum me permet d'amener la paix et la d'éreinté en moi