Aimante huile soyeuse
Regular price

Sale price

€36,00
For the face, the body and the spirit, the loving silky oil acts on the opening of the heart and the self-expression.
Enriched with CBD and formulated with 3 dry and organic vegetable oils, it is regenerating, relaxing and nourishing at the same time.
The accord of rose, myrrh and sandalwood acts like a comforting balm and releases the emotions.
100% from natural origin.
Content : 50 ml
Olfactory Notes
Assets & benefits

- The rose has been used for more than 5000 years for its relaxing and de-stressing virtues, it is described as carrying the "scent of love". Active on the fourth chakra, that of the heart, it is ideal for balancing yin and yang.

- Sandalwood is appreciated for its woody, sweet and milky notes. In the East, sandalwood is rooted in cultural and spiritual traditions. Connected to the second chakra, it increases the integration of spiritual energies.

Ingredients: Helianthus Annuus Seed Oil, Caprylic/Capric Triglyceride, Coco-Caprilate/Caprate, Perilla Ocymoides Seed Oil, Simmondsia Chinensis Seed Oil*, Parfum, Eugenol, Citronellol, Geraniol, Limonene, Linalool, Benzyl Benzoate, Citral, Coumarin, Benzyl Alcohol , Cannabidiol, Tocopherol, and a generous dose of tenderness.

*Ingredients from organic farming.
Tips

Belle Rose corresponds to the 4th chakra, Anahata or heart chakra. It bridges the gap between your lower three chakras and your upper three chakras.

Drop the perfume in your neck and on this chakra in the center of the chest. Close your eyes and focus on your heart, then feel the energy of love.
To share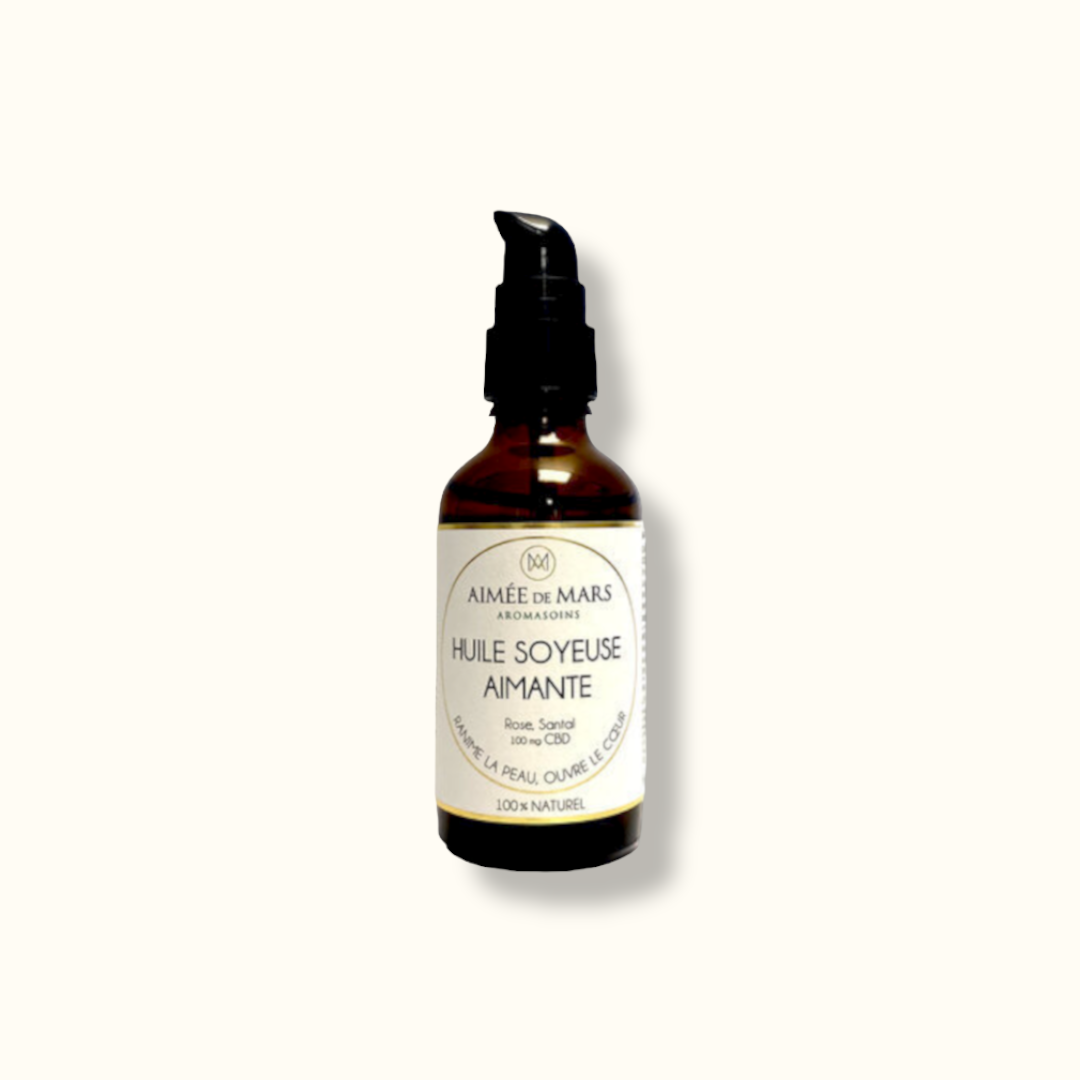 Our products are
FRENCH & FAIR

La puissance des éléments issus du ciel et de la terre.

NATURAL AND VEGAN

labeled Cosmos Natural and Slow Cosmetics

HOLISTIC

Une action-soin pour le corps et l'esprit.
10/10 d'après vos 29 avis
Un bonheur, une conception originale qui est nouveau pour moi

Mon rituel du matin, pour m'envelopper d'amour pour la journée ;-) J'adore

Texture très agréable,qui correspond parfaitement à ma peau. Très bonne odeur.

D'une grande douceur et un parfum délicat

Une invitation qui ouvre tous les sens

Produit agréable à porter, commande préparée avec soin

Très agréable. Je m'en sers comme base de maquillage et c'est parfait.

J'adooooore! L'odeur est envoûtante

L'huile soyeuse Aimante porte à merveille son nom avec sa texture et son odeur. L'essayer c'est l'adopter ??

J'adore, cette huile devient mon rituel du matin :)

magnifiquement douce et clairement Aimante j adore

Une odeur un peu plus marquée de rose serait appréciable

En test sur chakra du coeur. Pour l'instant je ne peux pas encore me prononcer sur l'action énergétique. Habituée aux autres huiles d'Aimée, je trouve l'odeur beaucoup plus discrète et cependant agréable et délicate

Un produit que je recommande pour son parfum et sa douceur.

l'huile soyeuse porte bien son nom et son parfum est excellent

Une belle découverte, un précieux soin

j'adore ! peu de recul encore sur les effets, mais je l'utilise avec joie tous les jours sur le chakra du coeur, l'odeur me plaît beaucoup.

parfum subtil, texture vraiment "soyeuse" et application divine

Une odeur très agréable et réconfortante. Idéal pour la détente.

Huile envoûtante, tres agréable