Intentions ritual
Regular price

€65,83

Sale price

€52,67
Each end of cycle, year or lunar cycle is an opportunity to pause and take stock before setting your intentions.

The Intuitions ritual accompanies you in this meeting with yourself to realise your Sankalpa.


L'huile Soyeuse Expressive to help you express yourself and your desires.
Esprit des bois, a room fragrance that brings you into communion with primitive nature.
The 7 à Toi Déesses discovery set, an opportunity to say out loud a different intention every day with a fragrance.
A sample of the fragrance Métamorphose.

A card drawn from the Metamorphose Oracle by Anne Ghesquière.

All in an organic cotton pouch.
Olfactory Notes
Assets & benefits

- The rose has been used for more than 5000 years for its relaxing and de-stressing virtues, it is described as carrying the "scent of love". Active on the fourth chakra, that of the heart, it is ideal for balancing yin and yang.

- Sandalwood is appreciated for its woody, sweet and milky notes. In the East, sandalwood is rooted in cultural and spiritual traditions. Connected to the second chakra, it increases the integration of spiritual energies.

Ingredients: Helianthus Annuus Seed Oil, Caprylic/Capric Triglyceride, Coco-Caprilate/Caprate, Perilla Ocymoides Seed Oil, Simmondsia Chinensis Seed Oil*, Parfum, Eugenol, Citronellol, Geraniol, Limonene, Linalool, Benzyl Benzoate, Citral, Coumarin, Benzyl Alcohol , Cannabidiol, Tocopherol, and a generous dose of tenderness.

*Ingredients from organic farming.
Ritual

Think about your three big successes and your three big failures, in order to capitalize on your successes and learn from your negative experiences.

Once this assessment has been made, write down your intentions or SANKALPAS, a term which means in Sanskrit (an ancient and sacred language in India): SAN connection and KALPAS, wishes.

Visualize an associated inspirational image and speak each intention with the utmost conviction feeling the joy, love, emotion and all the gratitude that goes with achieving your intention.

Formulate in a simple, positive way and in the present with the "I".

You can organize your sankalpas into 6 categories:

- What you want to BE
- What you want to HAVE
- What you want to DO for yourself
- What you want to DO for others
- What VALUES you want to embody
- What QUALITIES you want to develop.
To share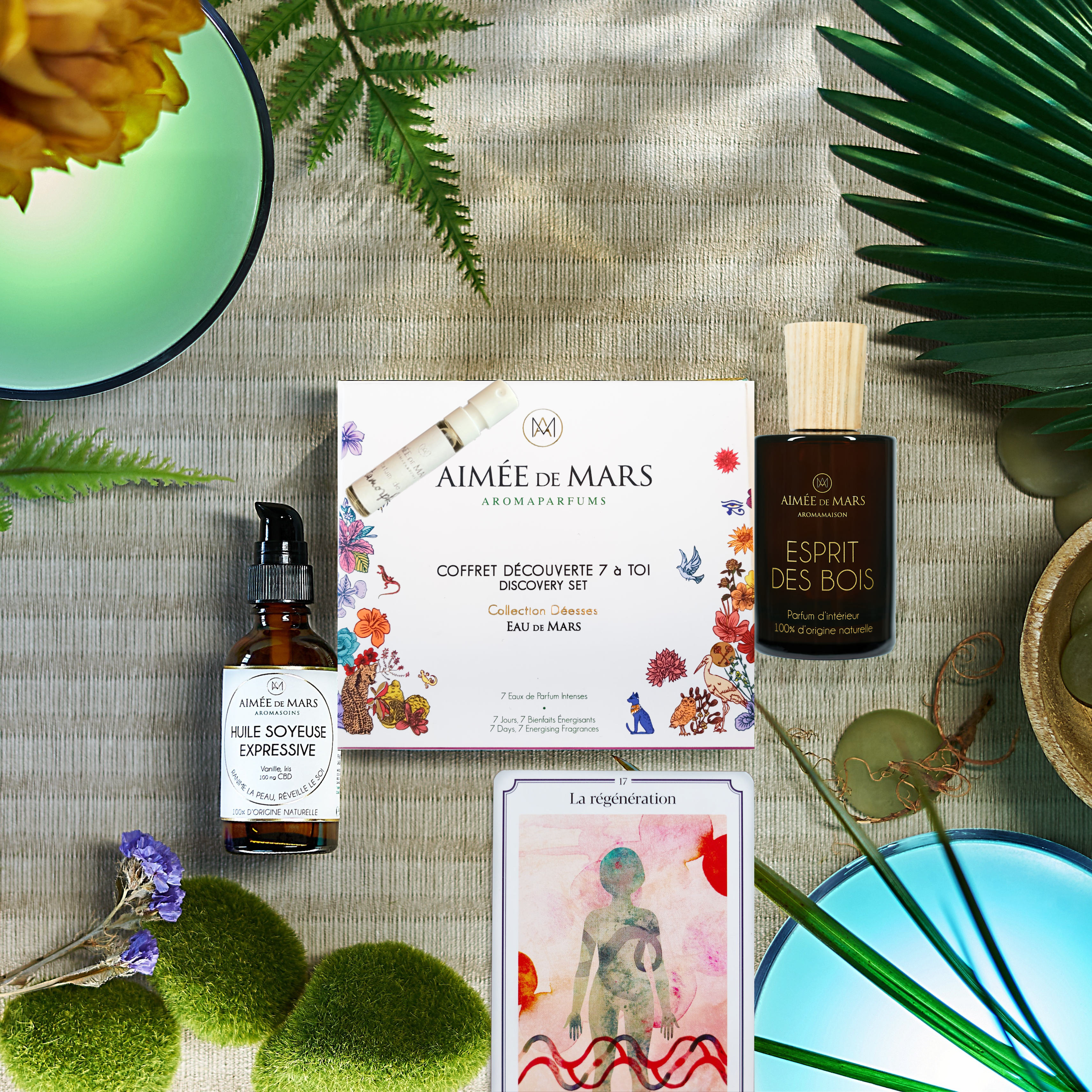 Our products are
NATURAL AND VEGAN

labeled Cosmos Natural and Slow Cosmetics
Happy or your money back

2 samples offered, including that of the perfume ordered

Free delivery

From 60€ of purchase in metropolitan France and Belgium