Désirable huile soyeuse
Regular price

Sale price

€36,00
For the face, body and mind, Désirable silky oil works to ground you.

Enriched with CBD and formulated with 3 dry, organic plant oils, it is regenerating, relaxing and nourishing.

The essences of ginger, cedar and patchouli will help you put down roots.
As for the amber accord of vanilla and cistus, it will not leave the person giving the massage indifferent...

This makes it a highly sensorial oil, also suitable for a pleasure and libido massage.

100% natural origin, Cosmos Natural certified.


Content : 50 ml
Olfactory Notes

Cedar, Sandalwood, Patchouli.
Assets & benefits

This oil acts on the anchorage and the second chakra, that of Desire.

- THE patchouli is a sensual and mystical material with its woody and oriental notes. The dried leaves were once used to perfume traveling shawls and protect them from moths. Linked to the first Chakra, it promotes anchoring.

- THE cedar is a symbol of anchorage and longevity, the life expectancy of cedar can reach up to 2000 years. Active on the Root Chakra, it is linked to the forces of Nature and brings calm.

- Perilla dry oil , regenerating and antioxidant, is a powerful anti-ageing agent. Its richness in alpha-linolenic acid (60%), omega 3, essential for the skin which does not know how to manufacture it, is unequaled in the vegetable kingdom.

The silky oil is also made with dry Jojoba oil , Sunflower and enriched with relaxing and anti-inflammatory CBD .

List of ingredients

Helianthus Annuus Seed Oil, Caprylic/Capric Triglyceride, Coco-Caprilate/Caprate, Perilla Ocymoides Seed Oil, Simmondsia Chinensis Seed Oil*, Parfum, Farnesol, Limonene, Linalool, Benzyl Benzoate, Cinnamyl Alcohol, Benzyl Cinnamate, Citral, Coumarin, Isoeugenol, Evernia Prunastri, Cannabidiol, Tocopherol, And A Generous Dose Of Tenderness.

*Ingredients from organic farming.
Tips

Suggested ritual:

Apply this oil in circular massages on the back, specifically at the level of the sacrum, then on the lower abdomen.
Take a deep breath then inhale fully at the center of your 1st chakra or root chakra, located at the level of the perineum - close to the coccyx, while visualizing your roots sinking to the center of the earth as well as the color red.

Basis of life, of our foundations, this chakra precisely allows you to release your kundalini, that is to say your full power and potential.

For a reinforced effect of this sensual oil: apply it on the soles of the feet, an area particularly receptive for the diffusion of the effects in the body.
To share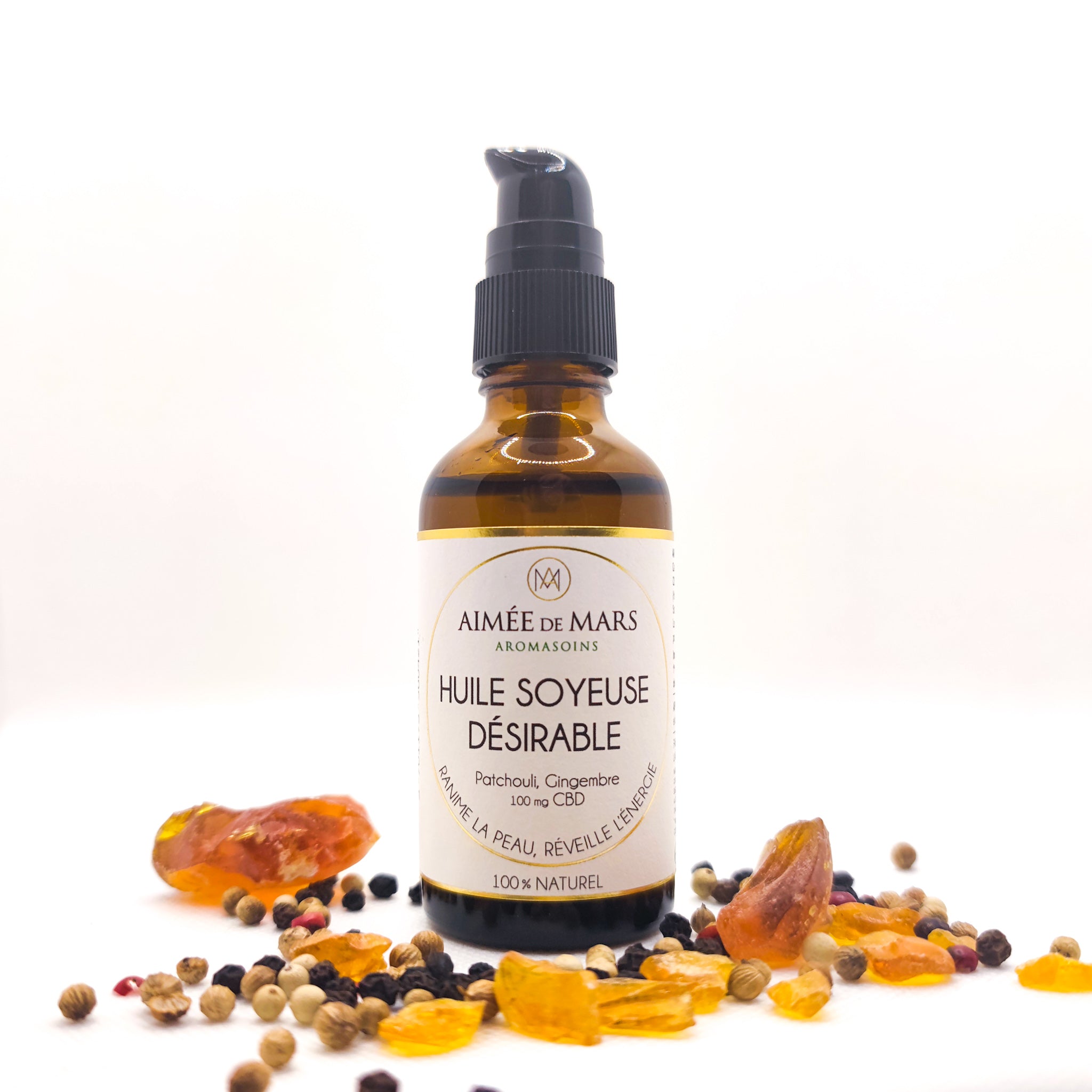 Our products are
FRENCH & FAIR

The power of the elements from heaven and earth.

NATURAL AND VEGAN

Labeled Cosmos Natural and Slow Cosmetics.

HOLISTIC

An action-care for body and mind.
10/10 d'après vos 15 avis
Mon huile préférée, son odeur est enivrante, je suis fan

Toujours une invitation qui fait apparaître de nouveaux horizons

Ma préférée, son odeur est divine, addictive, et tient la journée.je la mets sur le visage et elle me sert de parfum également.

pas encore testé en massage mais sent très bon. C'est envoûtant

Son odeur et mon ressentis physique sont extrêmements forts. À chaque fois qu'il y a un temps de massage. Je prends un vrai plaisir.

Je n'ai pas testé l'huile soyeuse mais son parfum est très plaisant.

La texture est agréable, le parfum aussi. L'effet relaxant est indéniable. Parfait pour mon dos !

Belle découverte, très ennivrant, subtil et mystérieux, un soin tout en profondeur

Texture tres agreable laisse la peau veloutee. Par contre faute d'odorat je ne peux m'exprimer sur les aromes

Odeur très subtile et envoûtante ...pourquoi pas une future eau de parfum avec cette senteur ?