Rayonnante huile soyeuse
Regular price

Sale price

€36,00
For body and mind, Rayonnante huile soyeuse acts on the solar plexus.

Enriched with CBD and formulated with 3 dry, organic plant oils, it is regenerating, relaxing and nourishing.

Its fragrance with essences of Petit Grain and Bergamot is specially formulated to activate your inner sun.

100% natural origin, Cosmos Natural certified.


Content : 50 ml
Olfactory Notes

Neroli, bergamot, vetiver.
Assets & benefits

- Bergamot has fresh, citrusy and lavender notes. It is the essential oil of the joy of living par excellence. It stimulates the solar chakra, promoting confidence and self-esteem.

- The essence of neroli comes from orange blossom. This white flower was much appreciated by the Princess of Nérola, who used it to perfume her gloves and her bath. It is active on the Crown Chakra, which connects us to divine universal energy and our soul's purpose.

- Perilla dry oil , regenerating and antioxidant, is a powerful anti-ageing agent. Its richness in alpha-linolenic acid (60%), omega 3, essential for the skin which does not know how to manufacture it, is unequaled in the vegetable kingdom.

The silky oil is also made with dry Jojoba oil , Sunflower and enriched with relaxing and anti-inflammatory CBD .

List of ingredients: Helianthus Annuus Seed Oil, Caprylic/Capric Triglyceride, Coco-Caprilate/Caprate, Perilla Ocymoides Seed Oil, Simmondsia Chinensis Seed Oil*, Parfum, Hypericum Perforatum Flower Extract, Eugenol, Citronellol, Geraniol, Limonene, Linalool, Citral, Coumarin, Cannabidiol, Tocopherol, And A Generous Dose Of Tenderness.

*Ingredients from organic farming.
Ritual

Suggested ritual: Nabhi Kriya (yoga position)

Nabhi means navel in Sanskrit and Kriya, to circulate energy. It is a set of cleansing techniques intended to purify the body and mind by getting rid of both physical and mental toxins.

Nabhi kriya acts particularly on the solar plexus, the seat of our radiance, our confidence and our will.

Start by massaging the Radiant Silky Oil on the solar plexus in small circles, going all the way to the belly.

1/ Lie on your back, raise your legs alternately, right then left at 90°. Taking care to breathe well: raising your leg, inhale while inflating your stomach. As you lower your leg, exhale as you draw in your stomach. (10 minutes)

2/ Continue now by raising both legs at the same time at 90°. You can put your hands under your buttocks to facilitate (5min)

3/ Bring your knees to your chest and hug your legs with your arms. This position activates the area of ​​the inguinal glands and acts on our lymphatic system. (5 min)

4/ Raise your legs to 60° at the same time as you open your arms on each side, while inhaling. Bring the knees and arms back to the chest as you exhale. Visualize the light entering your body and spreading to all your cells. Use this time to recite your own mantra. [Affirm what you would like to be]. (15 mins)

5/ Take the left leg with your arm, then raise and lower the right leg very quickly. (1min). Switch to the right leg without forgetting to inhale and exhale. (1 mins)

6/ Standing now, arms raised to the sky, then head down, come and touch your feet with your hands in a quick movement (2 min in all)..

If you have less time, you can halve the duration of each position
To share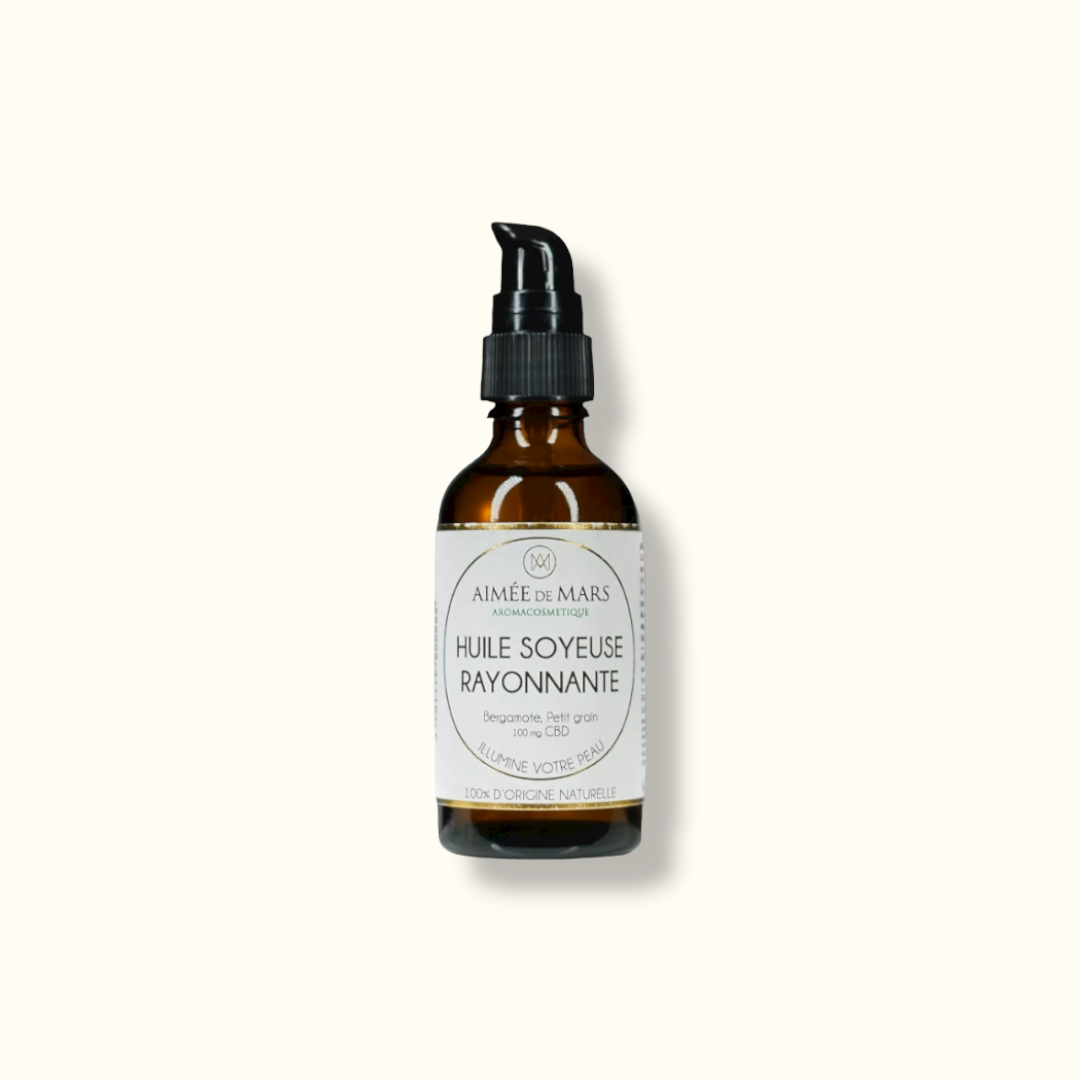 Our products are
NATURAL AND VEGAN

labeled Cosmos Natural and Slow Cosmetics
10/10 d'après vos 7 avis
J'aime beaucoup la texture et le parfum de l'huile mais je fais une petite remarque sur la pompe qui ne fonctionne pas de façon optimale (se coincé parfois)

Réponse du marchant

Vous avez raison, la pompe de l'huile est parfois difficile à enclencher. Il convient d'appuyer plusieurs fois avant pour l'amorcer. N'hésitez pas à nous dire si elle reste bloquée, nous vous en renverrons une autre.

PARFUM AGREABLE ET REVIGORANT POUR MA PART TOUT EN SUIVANT LE TUTO YOGA DE AIMEE ... GENIAL !

Cette huile est parfaite.

Produits de qualité et livraison rapide