1,2,3 Sentez - programme n°1 olfactory re-education
Regular price

Sale price

€40,00
Have you lost your sense of smell?

ENT professors, neurologists and the anosmie.org association are all unanimous:

Recovering all or part of your senses requires olfactory training lasting up to 6 weeks.

We have created an olfactory re-education programme consisting of 6 everyday scents to help you regain your sense of smell.

By practising every day, diligently and willingly, you can really increase your chances of recovering your sense of smell.

We wish you every success in recovering your sense of smell and your zest for life.

So 1, 2, 3 SENT.



Contents : 6 x 1.5 ml bottles
Contents

Scents of Program N° 1:

MINT – 2ml

LEMON CANDY – 2 ml

COFFEE – 2ml

PINK – 2ml

EUCALYPTUS – 2ml

ORANGE BLOSSOM – 2 ml

100 keys to feel + a form to fill in included in the kit.
Assets & benefits

- Lemon is the essential citrus fruit of gastronomy and perfumery, lemon is part of the Citrus family, in reference to the garden of the same name in Greek mythology. Associated with the Solar Chakra, it makes us more optimistic.

- The rose has been used for more than 5000 years for its relaxing and de-stressing virtues, it is described as carrying the "scent of love". Active on the fourth chakra, that of the heart, it is ideal for balancing yin and yang.

- Orange blossom, this white flower was particularly appreciated by the Princess of Nérola, who used it to perfume her gloves and her bath. It is active on the Crown Chakra, which connects us to divine universal energy and our soul's purpose.
Tips

Training every day doubles your chances of recovering your olfactory abilities*.

1 DAY, 1 SCENTS.

This kit contains 6 different scents numbered from 1 to 6.

It will help you regain your sense of smell in a few weeks by appealing to your memory, your emotions, your memories.

The objective: to practice smelling in order to reactivate the olfactory sensors.

How ?
One scent per day twice a day (morning & evening):
- Soak in the touch to smell, close your eyes and breathe.
- Look at the correspondence between the scent and the number on the back of the kit.
- Note your result on the form.
- Move on to the next scent the next day and repeat the experience for 6 weeks.

Do not apply on the skin.

*Source: "Effects of olfactory training in patients with olfactory loss." The laryngoscope, 119(3), 2014, p. 185-194.
To share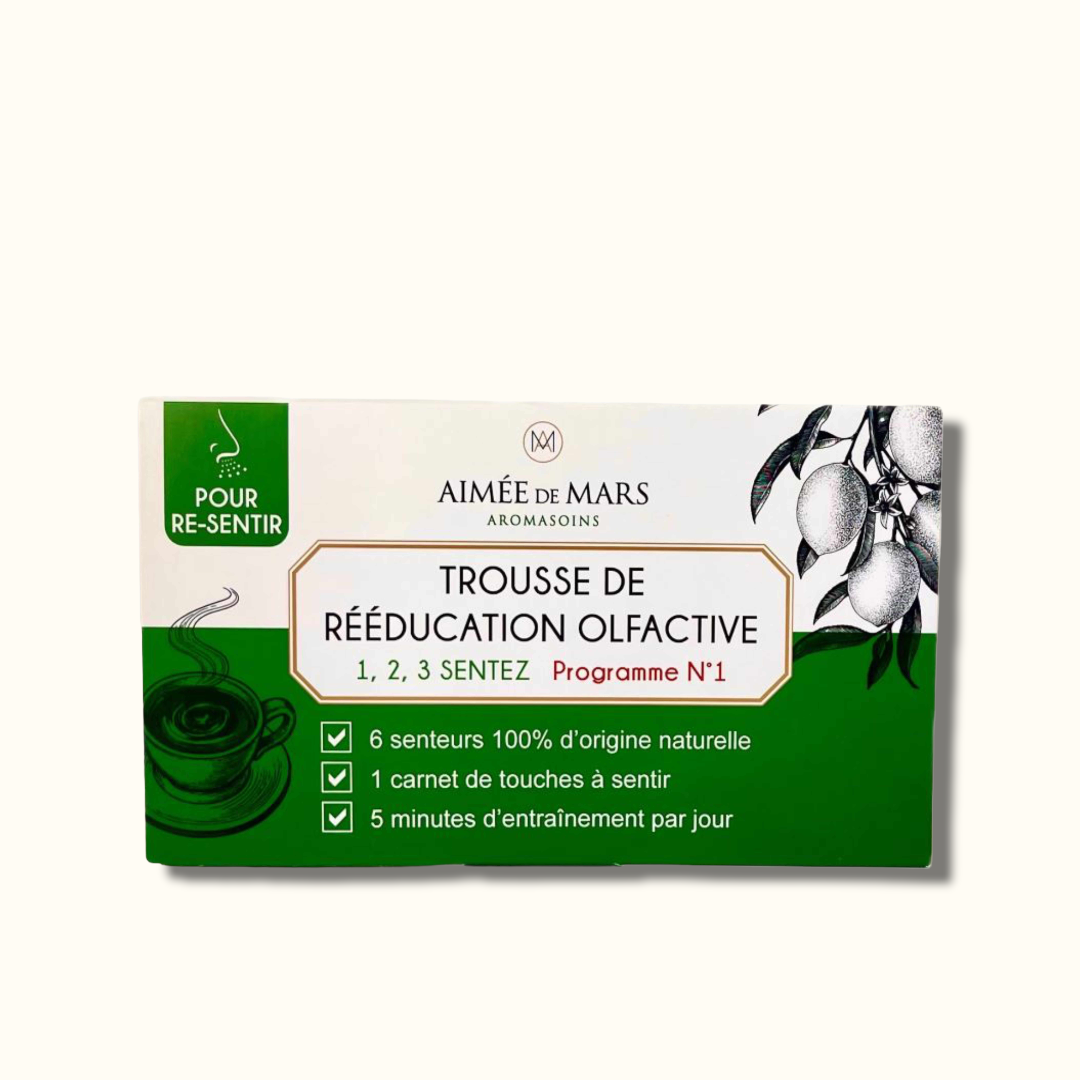 Our products are
FRENCH & FAIR

the power of the elements from the earth and the sky

NATURAL AND VEGAN

labeled Cosmos Natural and Slow Cosmetics
8/10 d'après vos 14 avis
C'est ce qu'il me fallait suite à une anosmie partielle due au Covid. Je vais commencer le programme 👍

Senteurs difficiles à reconnaître car parfums très subtils.

Comparé à d autres produits le nombre de flacons est un peu trop limité.sinon très bon produit

Essences trop diluées. Je suis passée à de véritables huiles essentielles. Cher pour le petit contenu. Pas satisfaite.

EN COURS MAIS IL ME SEMBLE TOUT A FAIT EFFICACE ET PERMET EN OUTRE LA DECOUVERTE DE NOUVELLES SENSATIONS ET VOYAGES OLFACTIFS

Je n'en suis qu'à la première semaine, et avec une perte totale d'odorat, depuis plus d'un an, je ne sais pas trop pour le moment.

La boite est soigneusement préparée, les instructions sont claires. Je ne peux pas encore juger le résultat, cela ne fait qu'une semaine et j'ai une forte anosmie...

Il est un peu tôt pour porter un jugement, je viens de commencer.

Très bien permet une rééducation efficace !

Superbe produit, ludique très bien fini.

Methode tres claire. C'est tres bien que ce prodiit existe car les gens qui ont perdu l'odorar se retrouvent bien seuls et bien desesperes

Produit de grande qualité très bien conçu A recommander